Our Team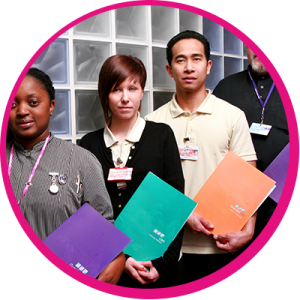 The Senior Management Team comprises of a full time on-site Director of Clinical Services, and Registered Manager who are both registered nurses and a Head of HR who is a Chartered Member of the CIPD who understands, guides and leads the whole team.
We have over 600 staff including more than 30 registered nurses from all nursing disciplines which enables us to provide clinical care and support across NG Healthcare. Our nursing staff come from a wide range of clinical backgrounds including General Nursing, Psychiatric and Learning Disability. Each of the units has at least one Registered Nurse on duty 24 hours per day. This not only aids the delivery of services of each units, but it brings a wealth of experience and expertise we share on site.
Each unit has a Manager who is part of the duty rota, and works to guide the whole team. We are now proud to be part of the new innovation in providing trained Nurse Support Workers on each unit. Our Nurse Support Workers are trained here on site and develop their skills in an active learning process on the units. The Nurse Support Workers and Care Coordinators direct and guide our Care Assistants.
Our units are housed in separate independent, purpose built facilities; Selwyn House, New House and Mayfield. All our units are within close proximity to each other and share our on site staff and training facilities.