Learning and Development
Here at NG Healthcare we pride ourselves on investing in our staff and supporting them in their choice of career wherever possible. Whether you are a Care Assistant, Care Coordinator, Nurse, Hygiene/Laundry, Maintenance, Administrative or Business Professional, your development is important to us.
We have an onsite purpose built training facility with the majority of our training carried out onsite by our own 'Train the Trainers', this enables people who know NG Healthcare and have actually worked in the roles to be the ones imparting their valuable knowledge and skills to you in a way that is relevant and appropriate.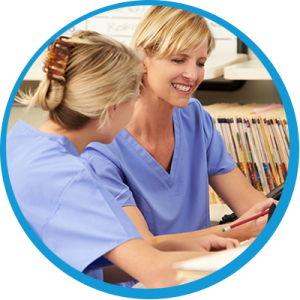 For the more specialist courses such as Diploma's and Certificates we only use those tried and tested professionals. Our  training and qualifications are delivered on site in conjunction with local training providers, including colleges. This allows learners to receive training in the environment that is both relevant and in context with their ongoing career here with us.
All Care Assistants have to have a minimum of or be working towards  the Care Certificate and we have assessors visit and work with the Care Assistants here onsite to ensure all training is fully in context with equipment and resident groups the Care Assistants will be working with each and every day.
We take a blended approach to our training delivery, offering e-learning, face to face training and coaching sessions. We understand that people learn in different ways and our skilled learning and development team are able to deliver this. Our development programme will enable you to move 'up the career ladder' and progress your career with NG Healthcare.